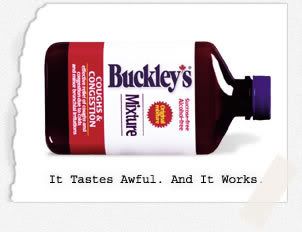 A few months ago I wrote a
post about shopping abroad
, about how we love to go to grocery stores in other countries, and what things we like to buy in different places.
After our last trip to North America, in which we visited all 3 N.American countries (I don't know if Greenland counts as N.America or not...), I thought I should update the list.
Canada
Buckley's - Cough medicine made from pine needles, among other things. This is probably one of the worst things I've ever tasted. Its kind of like getting slapped in the face or punched in the stomach, but it certainly works to help with congestion or a cough.

Coffee Crisp - Candy bar. I haven't figured out quite yet if they have coffee in them, or if you are supposed to eat them with coffee, but either way, they are great.

Kicking Horse Coffee - One of our favorite coffees. Rosemary says that she likes it better than Illy. We'll just have to find a way to get more of it once we run out :)

Mexico
Food from street vendors, especially tacos (3 for $1!), frozen coconut dessert sticks, and corn on the cob.
Tajín - chili seasoning for fruit. One of the best things in the world. We actually went to the village of El Tajín on our honeymoon!
Vanilla extract. I'm not really sure why Rosemary always buys it there, but I'm sure there is a reason.
England
Yorkshire tea.

Rubina black current drink.
What about you? What products do you make sure to buy when you travel to different places?